Aug 20, 2018 08:39 PM Central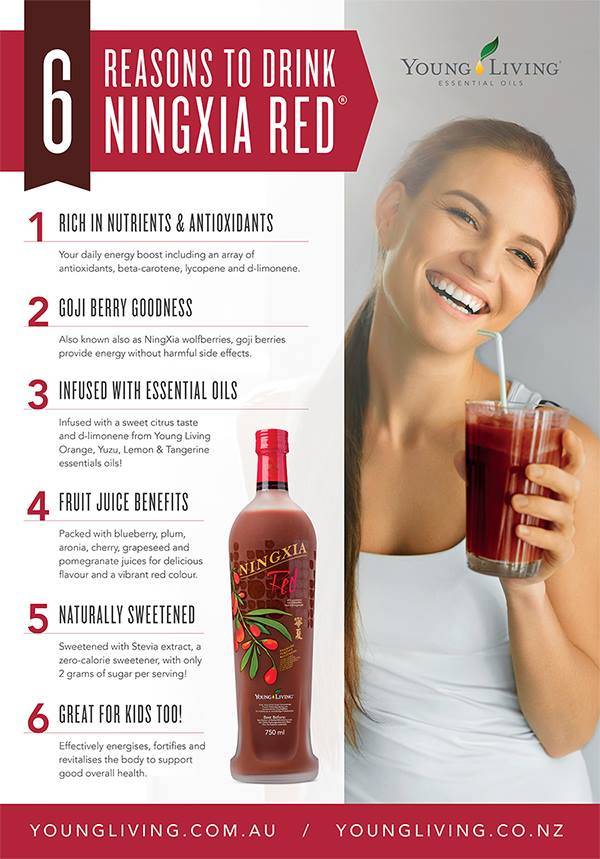 One of the things I can't do without daily is my Ningxia Red. Here are 6 reasons as to why this drink is so beneficial. Then you can see for yourself why I'm so passionate about using it to energise, fortify and revitalise my body - and why it's so important for you too!! You only need 60ml daily!!
Reason 1: It's a daily energy boost including an array of antioxidants, beta-carotene, lycopene and d-limonene.
Reason 2: Also known also as NingXia wolfberries, goji berries provide energy without harmful side effects.
Reason 3: Infused with a sweet citrus taste and d-limonene from Young Living Orange, Yuzu, Lemon & Tangerine
essentials oils!
Reason 4: Packed with blueberry, plum, aronia, cherry, grapeseed and pomegranate juices for delicious flavour and a vibrant red colour.
Reason 5: Sweetened with Stevia extract, a zero-calorie sweetener, with only 2 grams of sugar per serving!
Reason 6: Effectively energises, fortifies and revitalises the body to support good overall health.
It is also great for kids. My kids like to dilute with orange juice and have it with breakfast in the morning. Great way to start the day!
***** Please note, in order to receive 24% off your first and all future orders, use my member/sponsor number #1793886 when making any purchases or setting up your own personal online account. *****